It's no secret. We Portlanders take weekend brunch very seriously. Well, that plus coffee and lumbersexuals of course. Portland is known for it's crazy addiction to all things brunch, just watch Portlandia if you need proof.
I admit, my husband and I have fallen down the rabbit hole of weekend outings in search of the latest and greatest Eggs Benedict. However before we embark, we make a plan. One thing in Portland, don't think you can just haphazardly jump on your bike or get in the car and meander about for a place to eat. Unless you like the idea of a 2 hour line out front in the rain. Eating in this city requires precision, focus and careful planning to pull it off.
I give you the top ways to have brunch successfully in Portland.
First of all, do your research. Yes, the night or week before. Don't argue with me, this is serious. Where do you want to eat and what KIND of fare do you want?
Once you have chosen a place, determine location. What part of the city does your destination lie in? It matters.
Google, FB like and Instagram the crap out the place you want to go and then download their menu. You have to know what you are going to order before you get there otherwise you're doomed.
(If they offer specials, you are on your own - I can't help you.)
Check their hours - if the place is well known you have to get there and IN LINE before the place even opens.
The morning of - load the address in your GPS if you don't know where it's at. This is no time to wing it and get lost. That 2 top you want next to the window? In your dreams.

Pack a survival kit. Coffee and granola bars to stave off the hunger pains in the event you agree to an hour wait.
Don't bother with a menu. Remember how you already decided from the menu you downloaded? Give your order as soon as you're seated. Your server will love you. They are ready to flip your table as soon as you scrape that last bit of cheesy grits off your plate.
Be prepared for huge portions. Brunch gives you a ton for your money.
A word of wisdom - if you like your jacked up espresso drinks (like me) that will require a different stop altogether. Portland brunch spots focus on one thing, BRUNCH, not triple shot caramel macchiatos with extra caramel, not stirred, light whip yada, yada, yada.
That's why Portland boasts some of the best coffeehouses.
Locally roasted, fair trade, organic black coffee however? They are all over it.
Moving on....when your server brings your bill automatically give your card or cash without bothering to look at the total. They are running a fine tuned machine and have no time for you to carefully check their math. Trust me, they have it right.
Meanwhile that wait line is increasing.
Don't dawdle. Other people are hungrily eyeing your table, greasy palms pressed up against the windows, ready to do battle over the table you are seated at.
When you exit, say in a loud voice , "OMG, I can't believe they are out of (insert whatever they are known for) and walk off.
No, actually
don't
do that. I tried that with pancakes at a Pig N Pancake joint one time and it wasn't well received.
Breathe a sigh of relief. You did it. You successfully completed brunch in Portland. Now, cross it off your bucket list and head to Powell's books for another experience altogether.
Hey, while I'm at it here are some of my fave brunch joints in the city.
All of these restaurants boast locally sourced, organic, made from scratch (like EVERYTHING) food. Some of the best in the city is listed here.
You're welcome....
Helser's Restaurant (NE Alberta) Photo Credit: Helser's
Screen Door Restaurant
Screen Door's famous chicken and waffles (Photo Credit - Screen Door Restaurant)
The Tin Shed (NE Alberta) Photo Credit: Yelp
DOGS WELCOMED!
North Light Restaurant (N Mississippi - North Portland)
Photo Credit: kristiedoespdx.com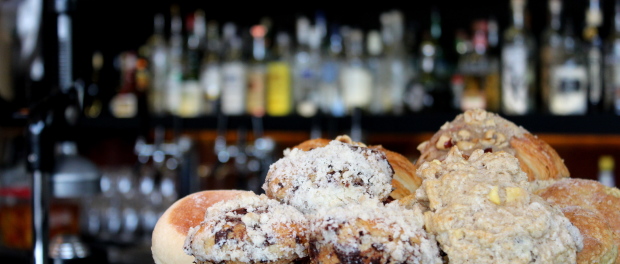 Gravy Restaurant - N Mississippi Ave Portland
You haven't lived until you have eaten Gravy's Creme Brulee Oatmeal. Also, I believe in the power of hashbrowns and in my humble opinion, Gravy Restaurant has the best in town. That's just me.